UkeBuddy provides you with all the tools needed to become a pro. Chord finder, chord namer, tuner, lessons, and more.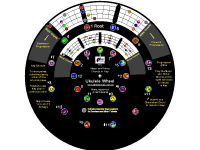 Rainbow Music resources include Ukulele Chord Charts, Interactive Ukulele Chord Wheel and FREE online Music Lessons. Ideal for beginners and students ready to take that next step.
Extensive Library of Scales/Modes in the 4 most common Uke Tunings. Your ultimate gateway to Improvisation and soloing on your Uke.
Rank
Title
Category
This Month
Average
Stats

#4

Ukulele Tuner @ UkeTune.com
Ukulele Tools
0
0

#5

The Ukulele Helper
Ukulele Tools
0
0

#6

Lardys Ukulele Database
Ukulele Tools
0
0

#7

Purflex®
Ukulele Tools
0
0

#8

Ukulele Tuner
Ukulele Tools
0
0

#9

Uke Geeks JavaScript & PHP Chord & Tablature Music Libraries
Ukulele Tools
0
0

#10

Uke Can Do It!
Ukulele Tools
0
0
11
Your Site Here
12
Your Site Here
13
Your Site Here
14
Your Site Here
15
Your Site Here
16
Your Site Here
17
Your Site Here
18
Your Site Here
19
Your Site Here
20
Your Site Here
21
Your Site Here
22
Your Site Here
23
Your Site Here
24
Your Site Here
25
Your Site Here
26
Your Site Here
27
Your Site Here
28
Your Site Here
29
Your Site Here
30
Your Site Here
31
Your Site Here
32
Your Site Here
33
Your Site Here
34
Your Site Here
35
Your Site Here
36
Your Site Here
37
Your Site Here
38
Your Site Here
39
Your Site Here
40
Your Site Here
41
Your Site Here
42
Your Site Here
43
Your Site Here
44
Your Site Here
45
Your Site Here
46
Your Site Here
47
Your Site Here
48
Your Site Here
49
Your Site Here
50
Your Site Here